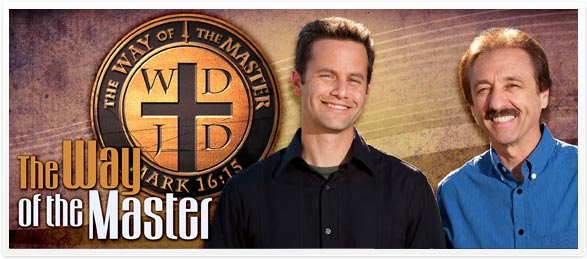 The "Way of the Master" television program, airing in over 190 countries, offers a unique and fascinating twist on reality TV.
Each half-hour program teaches Christians how to share their faith effectively and inoffensively—and then demonstrates it through real-life witnessing encounters.
See Ray Comfort and his team follow Jesus' example by going to the highways and byways, malls and movie theaters, college campuses and local coffeehouses, to share the gospel with people from all walks of life: teenagers, intellectuals, atheists, Muslims, Jews, cult members, backsliders, and the self-righteous.
Each episode also provides practical biblical instruction as the team tackles the most common questions and objections of the Christian faith and addresses challenging arguments and difficult situations.
In this entertaining and equipping show, not only will you learn how to speak with your unsaved family and friends, but you will be given powerful tools that will replace your fears with courage.